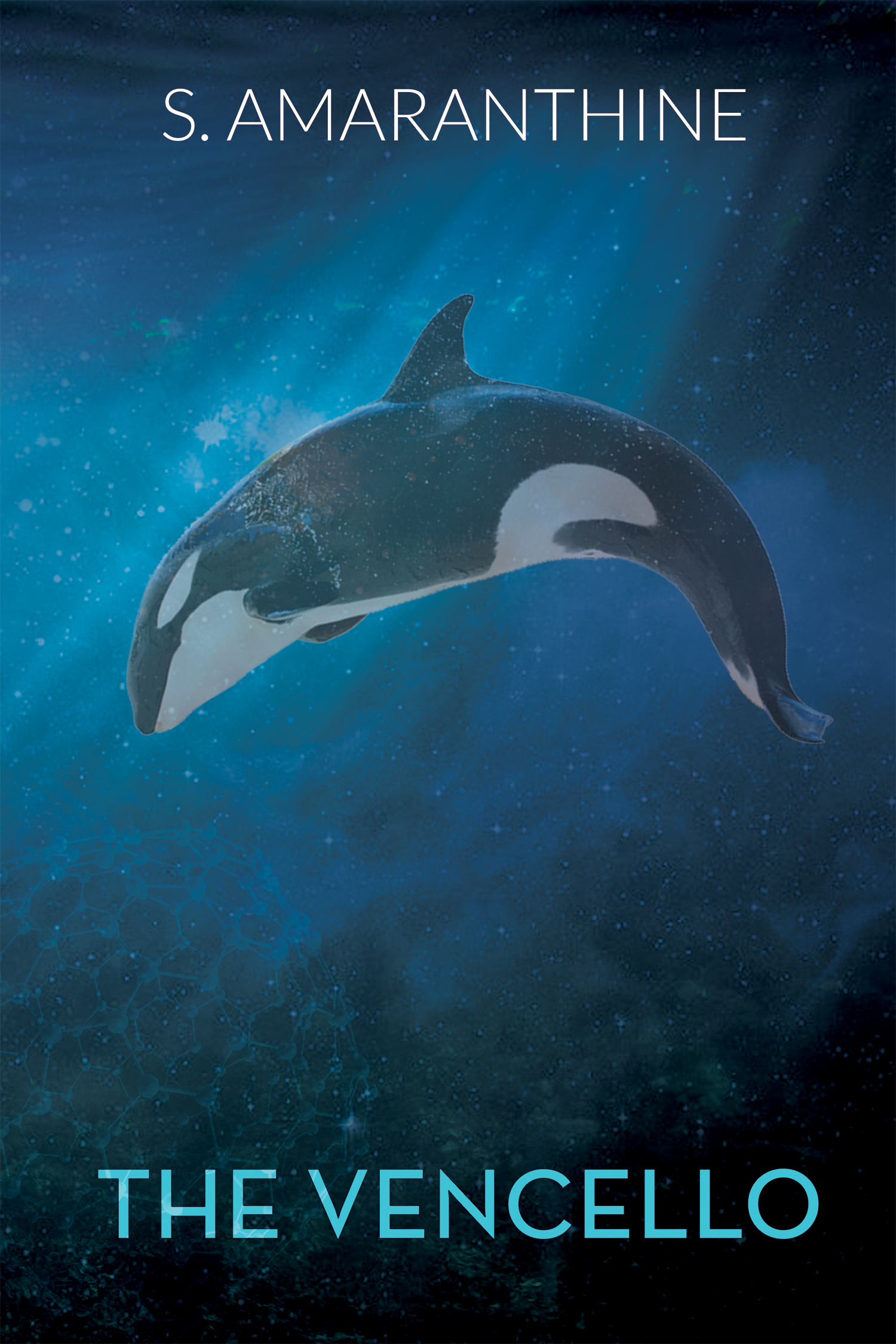 Book 1 of the trilogy. FASCINATING BEACH READ OR A LONG, COMFY CURL-UP. Read it the 'tried and true' way in hard copy. Highly recommended. The trilogy is meant to be re-read and enjoyed more with each iteration. As you explore the second book in the series, Cetapiens, you may want to flip forward or back to the other books and sections and re-read.

Order secure through Amazon Company Createspace.
Click here: P A P E R B A C K
Also available from the following vendors in E-book formats (Less if you have already have a device):
International Amazon links:
For Amazon.co.uk
For Amazon.de
For Amazon.fr
For Amazon.es
For Amazon.it
For Amazon.co.jp
For Amazon.com.br
For Amazon.ca
For Amazon.in
For Amazon.com.au
For Amazon.com.mx
For Amazon.nl
============================
R E V I E W S
4/27/16 by Serious Reading
Read below or click here to visit the seriousreading.com review webpage of The Vencello in a new tab on your browser.
Overall Score: 96% 5 stars
The Vencello is the first part of a trilogy based on a unique concept by S Amaranthine that builds a connection between human beings and the Creatures of the sea. Not just this, the book also discusses topics that connect to the philosophy of the universe such as music, specie dependence, family, love and the fact that we are all connected to the universe in a similar way, no matter which specie we belong to.
The story is narrated by someone who isn't human and she has the ability to travel through time and space with her grandmother. And in the book, they are travelling in a realm called as 'Vencello' by their people.
With strong characters from three species- Humans, Orca and the sperm whale, the author builds foundation on what the three species have in common such as love, family, and the universe.
There is so much love that it may even transcend the universe and there is a clear bond between families that the readers will like to relate to. Not just this, it is also the story of two mothers mourning for the loss of their child, and how we tend to understand those people who have pain similar to ours.
It is also about forgiveness and how it could completely transform your life. And it is also about hope, because it's what really matters in times of pain and loss. There is so much to learn from this book, it will take your mind and your energy to another level altogether.
The Vencello also discusses the mysteries of the becoming of the universe. Whether there are multiple universes, or whether it is only the one we live in… but the Vencello still describes and connects us to no matter how many universes there might be. If you are looking for a book that has an interesting and unconventional narrative but also makes you think about the big ideas about life then this you can't miss this book.
*****

S. Amaranthine takes readers on a thoughtful journey of three intertwined lives as they experience life's greatest tragedy – and then an unexpected triumph. If you love cetaceans and believe that the ocean holds mysteries beyond our comprehension, this is the story for you!
OVERALL RATING: 5 stars
by Jenn Stark author of the Immortal Vegas book series (Getting Wilde, One Wilde Night, Wilde Child and others)
*****
The Vencello is a surprise. The story is lovely, and compelling, stark yet soothing. Inspired yet wholly believable. From unbearable loss, to characters open enough to receiving sacred guidance from beyond our usual physical world, the story beckons with its mystical intensity and the cross-species empathic journey of whales and humans. Reading it, you have to wonder if Cetacea sent key messages for humanity direct to Amaranthine. You have to wonder, in fact, if they're reaching out to others & our collective society as a whole. Read it and decide for yourself!
OVERALL RATING: 4 stars
by Rachel Clark author of The Blackfish Prophecy
*****
The Vencello by S. Amaranthine is a thought provoking adventure of love, loss, fear and joy, intertwining these emotions amongst humankind and the aquatic world. A story of two mothers who have experienced tragedy and loss of a child, are joined as one and are able to achieve insightful perspective on each other's loss, hopes and dreams of reuniting with their loved ones. Each chapter provides in depth pieces of the continuing stories of the characters from different worlds, which encourages the reader to stop and ponder each situation and leaves the reader anxious to move on to the next chapter! The in depth description of characters, their surroundings and their lives and the history which led them to this point teases the reader to want to know more about the journey and what the future holds for these two worlds coming together as one. With the help of a sperm whale, the two grieving mothers are able to begin to achieve an unexpected exultation!
OVERALL RATING: 5 stars
by Gretchen Geraci (Posted on Amazon 3/24/16)
*****
The Vencello pulls on your heartstrings while taking you on a journey of the bonding of two mothers from different species both mourning the losses of their offspring. The book is told from a unique perspective in which the narrator switches each chapter allowing readers to get to know each character on a deep and personal level. Telling the story in this way is genius when having multiple species being the main characters in the book. Dive into the ocean with S. Amaranthine for a unique sci-fi novel that will expand your knowledge and imagination of underwater mysteries.
OVERALL RATING: 5 stars
by Laura Geraci
*****
My daughter purchased this book for me. I don't usually read science fiction, so I'm not able to judge this story against other books. However, I really enjoyed the stories within the main story, and I look forward to the next book in the trilogy. I did learn a lot about Orcas, Sperm Whales, the oceans, and the people who study them. The best part was the way the intertwining stories of each species explained their viewpoints and skills, and kept me interested, then built up to the end.
OVERALL RATING: 5 stars

by Chris Christensen
*****
Rising from the depths of despair, two mothers grieve the death of their beloved sons. The catch is that these mothers are of different yet both higher intelligence species, one is human and the other orca. Then with the unknown assistance of another more intelligence and sentient being, a sperm whale, the three species join forces and happen upon the power of creation! After reading this metaphysical creation story readers come away with a new respect and understanding of the importance of our oceans and the highly intelligent beings which inhabit them. This book, the first of a trilogy, reveled to me the intelligence of the ocean. I appreciate how S. Amaranthine developed a perspective from the whale point of view. I hope this book touches many people as it did me because cetaceans remain unrecognized and unappreciated as we continue to harm their environment.
OVERALL RATING: 5 stars

by Wenda Pichardo, M.A., Johns Hopkins University
*****
The first book of a trilogy series, The Vencello by S. Amaranthine is a Sci-fi fantasy story about the orca, Akenehi and the human, Delora and a connection that is made between them brought on by the similar tragedy of loosing their son's on the same day. This event brings the orca and human mothers together overcoming their communication barriers and set up an unlikely friendship that could open doors to other scientific advancement and possibilities. But this friendship is viewed as a potential danger to other creatures of the ocean causing the masters of the ocean to closely watch what's transpiring between their two enemies, but no one is prepared for what actually occurs and the actual possibility of time travel!

The whole story centers on the idea of the possibility to time travel but keeps the details on how this is supposed to occur extremely vague and leaves the reader slightly confused about the participation of specific objects with this time traveling process. Its not the official main focus of the story but is mentioned a lot, very quickly in passing.

The author writes in third person perspective and while this gives you a better overall image of the characters and the events that are taking place it makes it somewhat hard to relate emotionally how the sub-characters are feeling during an event. Liam, Delora's boyfriend, is not really fleshed out and you have no real emotional connection with him. He feels more like a secondary support character then a main character, which the author perceives him to be. The main characters are well written and easier to relate to and it's easier for the reader to feel more connected to them.

The chapters are long but broken up into which character the author is focusing on discussing, This helps the reader focus on where the story is taking place, whether in water or out and which group of characters the reader is to pay attention to. Sadly the character Brough, the sperm whale is possibly the most daunting part of the story to read because of the authors overly extensive, wordy description of Brough's concern and real lack of participation with the other characters, making it somewhat hard to keep the readers attention after a while during his parts of the story. Hopefully he will have a larger part to play in the upcoming books.

Overall the story is well written and the main characters are well shaped though possibly overly floral, whimsical in description. The dialogue is smooth and natural and there are very little grammar mistakes. The author seems to have extensive knowledge on the subject matter of orca etc. The main story is pretty solid with only some minor holes in the subplots, which leaves you with questions that are not fully answered until later in the book, but this has no real impact on the main story itself.

The story The Vencello was an interesting read, which keeps the reader suspenseful as to what is really going on yet leaves a lot of questions unanswered leaving it open for the second book in this upcoming trilogy.

by Laura Novak (via Portland Book Review) on July 23, 2015

OVERALL RATING: 3.5 stars (3 stars = liked it, 4 stars = really liked it)
***1/2