The Magical Manifestation of Grandmother at Lime Kiln
<h2? by S. Amaranthine 8/3/16
Cetapiens (book two): the sperm whale, orca and two humans survived transition to the C-60 molecule universe. The Vencello had begun. Time travel was happening throughout the multiverse and the Vencello was initiated. The only human population that pleasure seeking time travelers, the Priori, could tolerate was the Cetapiens. Cetapiens, originating from the same home world as the Vencello, were an ancient human culture, domesticated by orcas, and inherently did not depend on thumb-product technology as did later humans. But they were by no means primitive. For this and many reasons, they were visited frequently. The Priori also constantly visited the Vencello, wherein incidentally; the two human constituents no longer needed their thumbs. Those stubby appendages were genetic relics and so to appease the orca, whose daughter was taken into captivity and held for decades until her death, they forfeit them. A Vencello rule: no thumbs.
Orcasekai (book three) is underway but as it is the last of the trilogy, I'm feeling the pressure to hit a Grand Slam, achieve a unanimous blazing 5 stars, and go down in literary history as the author of the 'War and Peace' of cetaceans, the greatest science fiction literary work to give those deserving and less sung ocean dwelling sentients their due! Aim high, right? Why not? Someone has to write it. So, I traveled all the way from Ohio to San Juan Islands (SJI) Washington, where humans live in close proximity to wild, free Orcas, during the week of Superpod 5, for inspiration.
Serendipity was my word for that week. It was as if I had walked into a modified version of my own novel. In many ways, the people I met on SJI shared characteristics I had assigned to Cetapiens. They were disarmingly friendly, comfortable and satisfied with their surroundings, knowledgeable and respectful of the orcas that made their surrounding water their home. The smallness of the island itself lent an ambiance of stepping back a bit out of time to another world.
But it was the forfeiture of the thumbs, a specific sacrifice to the orcas, having devoted an entire chapter to it in Cetapiens, as if straight out of my trilogy right at me, was the most serendipitous that week. I had my Superpod 5 week all planned out. I would rent a bicycle for a few hours Monday, before the afternoon meet and greet, and explore the east and northern scenic parts of the island. I would perhaps venture down to the water and either see orca, or not. Tuesday morning I would kayak in a large group of humans, either see orca or not and then attend seminars in the evening. Wednesday I would again rent a bicycle and head south this time, and either see orca from land, or not. The point of the week was not to actually see orca. If I did, I knew it would be great. However, my whole week did not revolve around whale watching. I was there to experience land where orca lived in close proximity and whatever else of the multiverse might find me there. I felt like I needed to get that land feel, that albeit fictitious Cetapien existence, absolutely right. The rest I would imagine, with hard science as my muse, as interesting and otherworldly.
Monday morning began with perfect weather and so I obtained an electric assist hybrid bicycle and began my cardio-adventure to Roche Harbor. It was a beautiful ride and I arrived at my destination in relative comfort despite the fact I had neglected to bring water along. I ate, rested and made the correction. I purchased water for the trip back to Friday Harbor. In short, as I was riding back the water plopped off of the holder and I soon realized it was gone. I looked behind and there it was, confirming its location with plenty of reflected sunlight and promise of required hydration. I checked traffic and as it was clear I simply made a U-turn out into the road to retrieve it. A car suddenly came around the corner straight toward me and I panicked. I turned too sharply for my slow speed and I lost control. I tumbled out onto the street, right in the path of the oncoming car.
I felt no panic at the time. There was only a sentence spoken in my head. "Oh, I could get hit by that car." Quickly, I looked over to grab the handlebars and get myself and bike out of the way and I noticed my right hand pressed and thumb splayed against the concrete looked somehow otherworldly, as if I was looking at an image of something not mine. My thumb was sticking out at a strange angle and another sentence popped into consciousness. "That doesn't look right". (I never claimed the voice in my head was especially brilliant.) Fortunately, the driver of that car saw me in time and slowed down. I got out of her way and despite her offer of assistance I assured her I was fine and hers and the two cars that had formed a small parade of witnesses drove on.
I pulled and manipulated my thumb into a recognizable configuration. I always carry some basic first aid supplies and so I immediately applied treatment to my bleeding knee. Characteristically, I did not cry. Rather, I cursed myself for that incredibly embarrassing display of stupidity. In hindsight I knew exactly what I should have done to properly secure the water before I even set out let, let alone retrieve it after it inevitably plopped off without risking life and limb. I determined I would make the 8 miles back to the bicycle shop, with or without the use of my thumb, under my own stubborn power. As I rode, I had a devil of a time shifting gears. No matter. Fatigued by the excitement of the fall as well as the first ten miles over hilly terrain, I was consoled and satisfied that the extra dollars spent on an electric assist model had been smart and worth it. I had plenty of time to consider the serendipity of the loss of use of my thumb for the coming week. I meant it when I wrote in Cetapiens that thumbs were a detriment and the world would be better off without them. It began to feel just that that wipe-out should have happened to me. I began to worry that if I fell one more time, I might not make it. Before survival simple sentence mode transitioned completely back to everyday internal brain chatter there was this in perfect clarity: "Your terms have been accepted and everything is going to be fine". I made it back to Friday Harbor.
Easier said than done, that thumb sacrifice deal. My handshake was painful and thus horrible all week and I met many impressive people offering my 'dead fish' grip. I should have offered the left, but as Inigo Montoya declared in the Princess Bride, "I am not left handed". My vanity suffered a tad as I could not straighten my naturally curly hair with the strength that my right thumb would have achieved. Even dressing and going to the bathroom were revelations in my dependence on that digit. But my life had imitated my art and so I was almost proud of the injury, even glad it hurt.
'Let them think I don't know how to shake hands properly. A cetacean might shake hands like so'… and so on.
And then it happened Thursday evening at Lime Kiln. In addition to the forfeiture of thumbs, many other elements of the Vencello and Cetapiens came together. Important pieces of heart and soul I had painstakingly put in those first two books for the benefit of grandchildren who were not yet born on this Earth sprang out of the pages into my waking world. Up to that moment I could not say for sure why those particular elements were chosen as so vital to them but it was as if the universe confirmed to me at Lime Kiln I had got it right. There was the Acrituchi, radiating from the sun, reflected in the vibrant colors of the trees which soaked it in, manifesting its sentience like the surrounding jungle of Cetapiens. There was the lightning, the source of the Schumann Resonance, which was the enabler and carrier of orca sleep song and lullaby of alpha sleep described in The Vencello. There was the rainbow, the Cetapiens analogy of the concept of individual universes, shades of color of the multiverse, which if one had the Priori ability, could perceptually separate them out like a prism and time travel among constituent parts of the whole. There was the music, the communication which is beloved by human and orca and creates an acoustic, even physical bond between the two species. And like the enzymatic being (aka Grandmother) from the pages of Cetapiens that takes events across time and coordinates and brings them into one viable solution, there was that evening where those elements were not only combined but worked wondrously together.
Indeed, I overheard many exclamations at Lime Kiln that evening and the word 'magical' was used again and again. Even a voice over the loud speaker asked what everyone was probably wondering, "What is going ON here tonight?"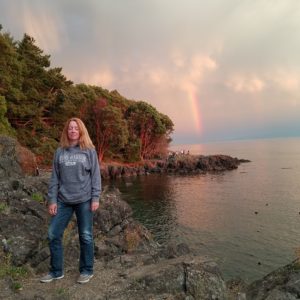 And then, of course, there were the orcas. Perhaps the music coincided with the location of salmon that evening. Perhaps the music itself attracted them and kept them close to its source. Perhaps the number of humans whose attention was so obviously fixed on them was interesting. Perhaps the cheers that carried over the water to their sensitive acoustic perception coinciding with even the slightest rise for breath provided an irresistible impromptu human behavior lesson for their young. Or as the fiction writer in me delights in considering: perhaps my thumb sacrifice was pleasing to the multiverse and the Priori who have found voice through my fingertips and were there with us. Or my hopeful answer: all of the above. In any event, the orca presence throughout the evening exceeded my wildest desire, for which I dared not hope. I witnessed a double breach, many tail slaps, so many fins and blows that they became commonplace after a while. That novelty wore off and I reverted back to accepting that merely being in the world, sharing a living time frame with them, was enough. In an ideal world, that would be enough for everyone. Knowing they are 'out there', with their family, free.
It was not ordinary, the usual, planned or rehearsed. I would agree 'magical' was the appropriate descriptor.
What were my terms? If at all possible, I would release all of the captives to their families. I would carry the souls, memories, love of their dead that died far away from them back so they would finally be together again and know what became of them, if somehow they did not already know. Whatever they wanted of me, they could have it, if there was something I personally should do to make it so. I have written our shared science fiction/fantasy story and traveled far to meet kindred spirits but, without a doubt, there is yet much to do.
My heart aches. Mine is not the only one. So many humans are painfully aware of their captive family member's suffering and endeavor to end it. Superpod 5 introduced me to some of those great human souls. The week has past, the humans gathered on Thursday at Lime Kiln have dispersed and the orcas viewed from those rocks are still out there, foraging for their precious families and their very lives, on their own terms.
(Notes about the image above: Taken at Lime Kiln State Park on July 21, 2016 entitled 'Maybe Life Really is a Dream'. More serendipity! My old phone literally melted at the base recharging port connector a week before the trip. Its camera had developed a horrid yellow tint applied to every image anyway. So I had to buy a new one which fortunately ended up including the best camera phone currently on the market. No lie! I took the attached picture that Thursday evening at Lime Kiln with it. There was no filter or special effect used.)